Acupuncture: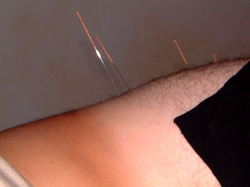 The theory of Acupuncture is that health and wellness of the body depends on the normal circulation of Qi (Energy) and Blood through specific channels (meridians). These channels connect the different organs of the body and supply them with the required nutrients to function properly. if the Qi is blocked in one or more of these meridians, it can result in pain and dysfunction. The cause of the blockage can be disease, trauma, side effects of medication, overwork, poor diet, emotions, stress and lack of rest.

Acupuncture involves the insertion of very thin needles through a specific acupuncture points on the skin to produce physiological effects. it is a complete holistic health care that help promotes natural healing, alleviate pain and improve function. when pain and/or dysfunction exist, the Acupuncturist will stimulate specific acupuncture points to normalize the normal flow of Qi and nutrients to help restore health and wellness.
Besides the common diagnostic methods, an Acupuncturist will examine your tongue, pulse, color changes of your face in order to determine your problems and choose the specific points to help you.
The side effects of Acupuncture are extremely low and potential benefits are high. millions have used Acupuncture since it was introduced to the united states in the 1970s. the National Institute of Health (NIH) endorses Acupuncture and stated " there is sufficient evidence of Acupuncture's value to expand it to the conventional medicine".
Acupuncture Needles :
An Acupuncture needle is about 7-10 times smaller than an average hypodermic needle. They don't hurt like hypodermic needles. you may only feel light sensation when they are inserted. once inserted they stay an average of 20 minutes.after the treatment many patients feel more relaxed and calm.

---